Millasmehaboob is such a bitter bitch and Sparkle stan. She just said that Eugenie's wedding was a cheap copy of sparkles. LMAO.
————————————–
Wow, Okay, MM had weeds, and Eugenie had Roses and a candlelight ceremony, a happy family. MM got a pissed off family that didn't have time to buy new outfits. Eugenie has a real designer Gown by Peter Pilotto and Christopher De Vos that the critics are raving about and MM got the flying nun dress with mosquito netting that can double to catch fish, shrimp.
The dress also features symbols that are important to the bride, including a Thistle for Scotland, a Shamrock for Ireland, the York Rose, and ivy to represent the couple's home. The designers added the symbols into the dress in a garland of rope like motifs, woven into a jacquard of silk, cotton, and viscose blend, 
according to the Palace.
 Her shoes were designed by Charlotte Olympia. Eugenie's look was completed with the Greville Emerald Kokoshnik tiara, which was lent to her by the Queen. This excerpt is from town and Country.
The Cake, WOW, the Cake! For their special day, Sophie Cabot designed Eugenie and Jack a five-tier cake, which is made of layers of chocolate and red velvet and covered in white icing. The couple's initials, E and J, are also monogrammed around the base of the cake. According to Buckingham Palace, the cake was inspired by the rich colors of autumn. This was taking from E online. MM chose someone off Instagram with a less than stellar health rating. The palace didn't help there really wasn't suppose to be a wedding.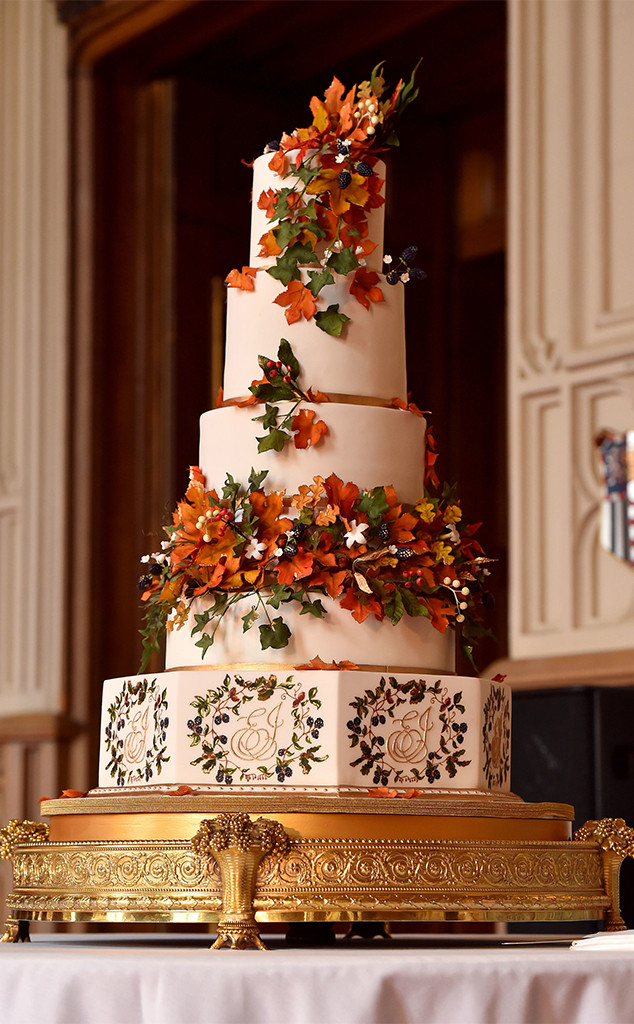 Where are all the videos about how everything was done with MM?   Eugenie hired the people their family helped become entrepreneurs through Prince Andrews work on behalf of the Queen.
The guest at Eugenie's wedding, all personal family friends and family.  MM wedding guests got invited by text message; she didn't know any of them, she didn't encourage anyone from her family but her mother to use the race card effectively.  I loved that a black girl was opening her car door yesterday, she never bothered to acknowledge her, a simple nod and thank you would have worked.
Princess Eugenie of York has worked for a living and served the Queen, she and her sister Princess Beatrice of York work hard on behalf of the Antislavery collective.  End modern slavery that include sexual slavery against women's will. True Feminist! The struggle is real.
What has MM done again, took credit for a cookbook she didn't write, no wonder her forword is missing. MM made it about her, sooner or later the press will nail her.
I could keep going on, and I will with the information provided by the reporters and their articles, success is the greatest revenge.
Thank you anon 🌸🌸😎